THE VORTEX OF MINERAL AND COAL CRISIS
Indonesian state essentially has a wealth of mineral resources and coal are very abundant and should be able to provide a significant contribution to the welfare of the people, but in fact the wealth of natural resources and mineral coal or simply enjoyed the party – given the mining license holder and groups – interest groups (interest groups).
Referring to Spicker that the welfare state can be defined as a social welfare system that gives a greater role to the state (government) to allocate a portion of public funds to ensure the basic needs of its citizens. In addition to this definition, there is also a theory that welfare state is a state whose government accepts primary responsibility for maintaining the welfare of its citizens, especially in terms of health, education, employment and retirement.
Therefore , it becomes very relevant when governments make corrections and improvements to various regulations in the field of mineral and coal mining . The legislation policy is very important  and urge the Indonesian government action that the state does not get caught in the vortex of mineral and coal crisis . In addition, precisely the policy will be able to realize the welfare state through compliance Indonesia – properly managed natural resources and mineral coal. The government should implement the Mining Act consistently, due both to the interests of the state. Usefulness to the country is that there will export control and production, there would be added value, as well as the preservation of the environment will be more manageable. However, the government should also consider the resilience of the national economy, with regard to the implementation of the Mining Law.
Explicitly article 4 of Law  No. 4 of 2009 states that minerals and coal as a natural resource is non-renewable national assets controlled by the state for – large welfare. Provisions Law No. 4 of 2009 on Mineral and Coal , which mandates that the processing and refining of minerals should be done in the country , resulting in increased value -added production and control of mineral commodities , is very relevant to the demands of national development goals . In connection with the enactment of Law No. 4 of 2009 on Mineral and Coal, the Government has imposed a ban on the export of raw minerals on January 12, 2014.
Keywords: :
Legislation Policy, Welfare State,  Law  Number  4  of  2009 on Mineral and Coal.
Writer and Copy Right:
Dr. (Cand.) Appe Hamonangan Hutauruk, SH., MH.
Lecturer, Advocate and Legal Consultant
Handphone: 0818964919, 085959597919, 081213502002
______________________________
HIMBAUAN PARTISIPASI:
Sebagai PEMILIK dan PENULIS artikel – artikel dalam Website https://beritahukum-kebijakanpublik.com, saya menyatakan:
Mengajak VENDOR untuk memasang iklan pada artikel – artikel di website https://beritahukum-kebijakanpublik.com dengan langsung menghubungi saya;
Mempersilahkan rekan – rekan dan khalayak umum untuk mengcopy seluruh konten yang terdapat dalam website https://beritahukum-kebijakanpublik.com. Akan tetapi sebagai ungkapan KEPEDULIAN kiranya berkenan memberikan partisipasi sukarela melalui transfer ke rekening Bank BNI No. 0263783536 atas nama APPE HUTAURUK.
Semoga dengan kepedulian yang diberikan, saya dapat terus berkarya memposting artikel – artikel yang bermanfaat bagi dunia pendidikan, masyarakat serta bangsa dan negara.
#SalamPersasaudaraan:
APPE HAMONANGAN HUTAURUK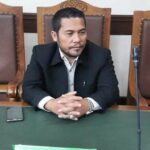 LAW  FIRM APPE  HAMONANGAN   HUTAURUK & ASSOCIATES
KETUA  UMUM  DPP LSM  KOMAKOPEPA
AKTIVIS'98