KEAJAIBAN ALLAH KITA (The Wonder of Our God)
Alkitab biasanya menggambarkan dosa sebagai suatu yang hitam kelam, tetapi di Yesaya 1: 18 gambaran itu berubah: " …. sekalipun dosamu merah seperti kirmizi, akan menjadi putih seperti salju; Sekalipun berwarna merah seperti kain kusumba, akan menjadi putih seperti bulu domba". (The Bible typically portrays sin as black or dark, but in Isiah 1:18 the imagery changes: " … Though your sin are as scarlet, they will be as white as snow; though they are red like crimson, they will be like wool").
Pada zaman Alkitab, warna – warni ini termasuk marna – warni yang sangat mencolok dan tidak mudah luntur.  Anda tidak dapat dengan mudah menghilangkan noda merah pada sepotong kain. Jika kain itu dicelup dalam warna merah, warnanya akan tetap merah. Gagasan bahwa sesuatu  yang berwarna merah dapat berubah menjadi putih seperti salju atau bulu domba adalah hal yang sama sekali tidak mungkin. (In Bible times, these colors  were some of the brightest colors that could be produced, and they were absolutely  colorfast. You didn't just wash out a scarlet stain from  a piece of clotch. If the material was dyed with scarlet, it stayed red The Idea of something dark red becoming as white as snow  or wool  was certainly out of the question).
Namun, seperti yang itulah yang dilakukan oleh merahnya darah Kristus terhadap dosa – dosa kita. Darah-Nya  menghapuskan seluruh dosa kita, sehingga yang tampak di mata-Nya ketika Dia memandang kita adalah putih suci – tak ada lagi noda dan bercak dosa yang mengotori kain kehidupan kita (Yet that is was Christ's red blood does to your sins. It wipesthem away completely, and all God sees when He looks at you is purity – no spots or smudges of unrighteousness soiling the fabric of your life).
Anda juga bisa menemukan contoh yang baik tentang prinsip rohani ini dalam ilmu pengetahuan. Jika Anda memegang secarik kertas putih dengan nokhtah diatasnya, dan melihatnya melalui filter cahaya merah, Anda tidak akan dapat melihat noktah merah itu sama sekali. Kertas itu seluruhnya akan tampak berwarna putih (You can find a good example of this spiritual principle in science. If you take a white card with a big, red dot on it, and look at it through a special, red photographic light filter, you cannot see the spot at all. The entire card appears white).
Melalui filter darah Kristus, Anda selalu kelihatan "putih"  di mata Allah. Apakah Allah sudah melihat Anda melalui "tudung" darah Kristus ini, atau apakah Apakah Anda masih mencoba membersihkan cacat cela di hati dan hidup Anda dengan usaha Anda sendiri? Biarkan Dia yang melakukan hal itu (Through the filter of Christ's blood, you are eternally "white" in the eyes of God. Does God see you through the covering of Jesus'  blood, or are you still tryingto scrub out  the flaws in your heart and life  by your  own effort?  You were not designed to be self – cleaning; let Him do the job).
Kesucian yang tidak mungkin kita peroleh dengan kekuatan kita sendiri, sudah dilakukan Tuhan untuk kita. Salah satu keajaiban dunia bukanlah monumen, tetapi keajaiban Tuhan yang merendahkan diri untuk menebus manusia berdosa (The purity that we clould not obtain for ourselves, He has purchased for us. One of the greatest wonders of the world is not monument, it is the wonder of God condescending to appeal to sinful man).
Created  and Posted By:
Appe Hamonangan Hutauruk, SH., MH.
Lecturer, Advocate and Legal Consultant
Handphone: 0818964919, 085959597919, 081213502002


______________________________
HIMBAUAN PARTISIPASI:
Sebagai PEMILIK dan PENULIS artikel – artikel dalam Website https://beritahukum-kebijakanpublik.com, saya menyatakan:
Mengajak VENDOR untuk memasang iklan pada artikel – artikel di website https://beritahukum-kebijakanpublik.com dengan langsung menghubungi saya;
Mempersilahkan rekan – rekan dan khalayak umum untuk mengcopy seluruh konten yang terdapat dalam website https://beritahukum-kebijakanpublik.com. Akan tetapi sebagai ungkapan KEPEDULIAN kiranya berkenan memberikan partisipasi sukarela melalui transfer ke rekening Bank BNI No. 0263783536 atas nama APPE HUTAURUK.
Semoga dengan kepedulian yang diberikan, saya dapat terus berkarya memposting artikel – artikel yang bermanfaat bagi dunia pendidikan, masyarakat serta bangsa dan negara.
#SalamPersasaudaraan:
APPE HAMONANGAN HUTAURUK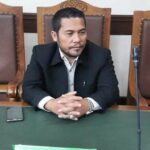 LAW  FIRM APPE  HAMONANGAN   HUTAURUK & ASSOCIATES
KETUA  UMUM  DPP LSM  KOMAKOPEPA
AKTIVIS'98