THE BASIC PRINCIPLE OF PROSPERITY
Kekhawatiran akan kehidupan pada hati orang Kristen sama dengan duri dan semak bagi suatu tanaman. Pikiran yang sibuk hanya memiliki sedikit ruang atau bahkan tidak ada ruang bagi Firman Tuhan untuk tumbuh dan berkembang (The worries of life are to the Christian heart what briers, thorns, and thickets are to a garden. A preoccupied mind has little or no room for God's Word to sproud and thrive).
Tuhan dapat melakukan hal – hal yang besar melalui seseorang yang pikirannya seperti tanah yang subur. Orang paling pintar di dunia, bila tidak bisa diajar, akan kehilangan kebenaran Injil. Sedangkan seorang anak kecil sekalipun bila mau untuk mendengar dan belajar, akan diubahkan (God can do great things through someone whose mind is like fertile soil. The most intellectual person in the world, if not teachable, will miss the truth of the gospel. Whereas even a young child who is willing to listen and learn will be transformed.
Tuhan menghargai setiap langkah iman Anda, dan Anda akan melihat bahwa Ia dapat dipercayai sepenuhnya (God will honor your stepping out in faith, and you'll see that He can be fully trusted).
Mendengarkan apa yang Firman Tuhan katakan adalah penting, namun transformsi hidup tidak akan terjadi sampai Anda menerapkan ajaran-Nya secara pribadi (Listening to what the Word of God says is important, but life transformation won't happen unless you personally apply its teachings).
Cara dunia adalah memilih individu yang terkuat, dan paling berbakat untuk menyelesaikan berbagai tugas. Sebaliknya, Tuhan seringkali memilih yang terlemah, yang tidak memiliki apapun untuk ditawarkan kecuali ketergantungan total kepada-Nya. Dan ketergantungan ini adalah hal yang mencirikan kedewasaan iman (The world's way is to choose the strongest, most  talented individuals to accomplish tasks. In contrast, the Lord often selects the weakest, who have nothing to offer except total reliance upon Him. And this dependency is what characterizes  the mature in faith).
Sebagai pengikut Kristus, kita harus melepaskan cara – cara lama, gagasan dan motivasi kita yang lama. Roh kudus menerangi pengertian kita dan mengijinkan kita melihat dari perspektif Tuhan (As followers of Christ, we must let go of old ways, ideas, and motivations. The Holy Spirit illuminates our understanding, and let us see from God's perspectivde).
Tuhan dapat membangun dalam diri kitasikap yang bergantung pada diri-Nya dan tunduk kepada Roh-Nya. Transformasi seringkali terjadi secara bertahap, namun terkadang Tuhan akan mengijinkan kesukaran dan rasa sakit untuk membangun ketergantungan kita kepada-Nya (The Lord can build in us a dependence of Himself and a submission to His Spirit. Transformation is often gradual, but God sometimes will allow difficulty and pain to develop our reliance upon Him).
Created  and Posted By:
Appe Hamonangan Hutauruk, SH., MH.
Lecturer, Advocate and Legal Consultant
Handphone: 0818964919, 085959597919, 081213502002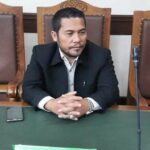 LAW  FIRM APPE  HAMONANGAN   HUTAURUK & ASSOCIATES
KETUA  UMUM  DPP LSM  KOMAKOPEPA
AKTIVIS'98