GOD OFFERS HOPE
God will never abandon us, so we need to continue to walk our life's path with the Lord.   It is better earn recognition without getting it than to get recognition without earning it.
Whenever God asks us to do something that seems insurmountable, we can take deep breath of courage, trust God, and begin to work. You don't need to know where you're going, if you know God is leading. Have faith in God, and wait; Although He seems to linger long, He never comes too late. Be assured beyond all doubting, in the trial we're passing through, that the Lord's great  love and mercy is at work for good in us.
When we're transformed and made brand – new, we see things differently; What once seemed right we now abhor, and wrong we clearly see. The only way to survive in a world of deception is by trusting the One who will never deceive us. When we tune our hearts to God, we can create beautiful music with our lives. We can ask God for courage in difficult moments. God's gentle hand reaches towards us every day. In all situations, God offers hope to us.



Writer and Copy Right:


Dr. (Cand.) Appe Hamonangan Hutauruk, SH., MH.
Lecturer, Advocate and Legal Consultant
Handphone: 0818964919, 085959597919, 081213502002


____________________________
HIMBAUAN PARTISIPASI:
Sebagai PEMILIK dan PENULIS artikel – artikel dalam Website https://beritahukum-kebijakanpublik.com, saya mengajak:
Mengajak VENDOR untuk memasang iklan pada artikel – artikel di website https://beritahukum-kebijakanpublik.com dengan langsung menghubungi saya;
Mempersilahkan rekan – rekan dan khalayak umum untuk mengcopy seluruh konten yang terdapat dalam website https://beritahukum-kebijakanpublik.com. Akan tetapi sebagai ungkapan KEPEDULIAN kiranya berkenan memberikan partisipasi sukarela melalui transfer ke rekening Bank BNI No. 0263783536 atas nama APPE HUTAURUK.
Semoga dengan kepedulian yang diberikan, saya dapat terus berkarya memposting artikel – artikel yang bermanfaat bagi dunia pendidikan, masyarakat serta bangsa dan negara.
#SalamPersasaudaraan:
APPE HAMONANGAN HUTAURUK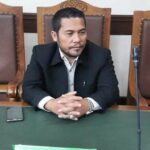 LAW  FIRM APPE  HAMONANGAN   HUTAURUK & ASSOCIATES
KETUA  UMUM  DPP LSM  KOMAKOPEPA
AKTIVIS'98