LET OUR CONSCIENCE BE OUR GUIDE
When fear and worry test your faith and anxious thoughts assail, remember God is in control and He will never fail. Our greatest comfort is to know that God is in control. Be assured beyond all doubting, in the trial we're passing through, that the Lord's great  love and mercy is at work for good in us.
We won't stumble in the dark if we walk in the light of God's Word. The Word of God provides the light we needed to see the way; It shows us what we need to know so we won't go astray. Believe that, when through fiery trials thy pathway shall lie, God's grace, all sufficient. REMEMBER THAT, The little choices we must make will chart the course of life we take; We either choose the path of flight, or wander off in darkest night. Make an excellent choice and watch the ripple effect of blessing. THEREFORE, If God's Word guides our  conscience, let our conscience be our guide.
The Lord sees us as we truly are; we lack the ability to view ourselves objectively, which is why it's important  to have a friend who will be completely  honest about our faults and mistakes. A goodly counselor won't be critical or comdemning but rather will prove to be loving and kind. Look to your heavenly Father for whatever you need. He has promised to provide for His children, and He knows the best way and timing to do so.



Created and Posted By:


Appe Hamonangan Hutauruk, SH., MH.
Lecturer, Advocate and Legal Consultant


Handphone: 0818964919, 085959597919, 081213502002


____________________________
HIMBAUAN PARTISIPASI:
Sebagai PEMILIK dan PENULIS artikel – artikel dalam Website https://beritahukum-kebijakanpublik.com, saya mengajak:
Mengajak VENDOR untuk memasang iklan pada artikel – artikel di website https://beritahukum-kebijakanpublik.com dengan langsung menghubungi saya;
Mempersilahkan rekan – rekan dan khalayak umum untuk mengcopy seluruh konten yang terdapat dalam website https://beritahukum-kebijakanpublik.com. Akan tetapi sebagai ungkapan KEPEDULIAN kiranya berkenan memberikan partisipasi sukarela melalui transfer ke rekening Bank BNI No. 0263783536 atas nama APPE HUTAURUK.
Semoga dengan kepedulian yang diberikan, saya dapat terus berkarya memposting artikel – artikel yang bermanfaat bagi dunia pendidikan, masyarakat serta bangsa dan negara.
#SalamPersasaudaraan:
APPE HAMONANGAN HUTAURUK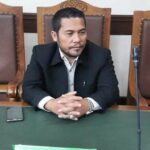 LAW  FIRM APPE  HAMONANGAN   HUTAURUK & ASSOCIATES
KETUA  UMUM  DPP LSM  KOMAKOPEPA
AKTIVIS'98